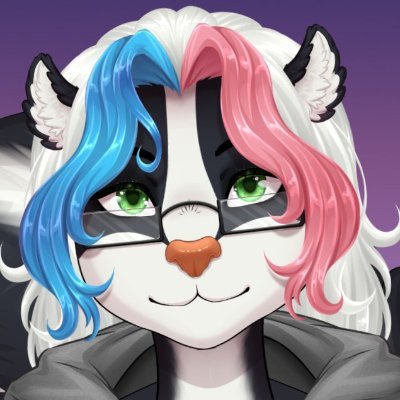 I'm Charlotte Finn, a writer of comics, prose and criticism. I'm an austistic gay transgender woman from Calgary and I'm chronically camera shy, so I got a fursona and a Vtube rig (rig by KapralPelikan.)
I was an alumni at the late, great ComicsAlliance website, joining some of the best of comics criticism. Some of my favorite work from that time includes my deep dives into revisiting Vertigo classics such as Transmetropolitan and Preacher; my guides to comics from a trans and nonbinary perspective, including the first article I wrote for them; a tribute to the brilliance of Bizarro and the case for a transgender Jimmy Olsen; a reminder of the incentives behind corporations such as Marvel and why they're not your friend; two extensive tributes to those that comics lost in 2015 and 2016, respectively; and this ode to the greatest genre convention in all of superhero comics. I also wrote a couple of pieces prior to that on my Tumblr, that have been reproduced on this site.
I also often blog at the comics site Shelfdust, where my most well-known work is most likely my 52 part series on the superhero comic Astro City.
I have also written comics, getting my start in the Strange Romance anthologies by Phantasmic Tales. Volume 1 features "My Marble Heart" where I collaborated with ING; Volume 2 features my story "Sea Change" which was a collaboration with Chris Brown and Josh Krach; I helped to edit Volume 3, taking a step back to make room for new talent. These volumes are available via Comixology or on Gumroad. I also was featured in the Prairie Comics Festival 'zine from Bedside Press, with the story 'No Bad Days' with ING and Ryan Ferrier. My most recent collaboration is in the two-part comic series "Halloween Girl" with art from Philip Rice and letters by Hassan Otsmane-Elhaou, about a Halloween-themed magical girl protecting the spirit of the holiday from the forces of evil. I am collaborating with ING on the webcomic, Brand Echo.
You can find me on Twitter under my professional account, @ByCharlotteFinn, and here is my about.me page. I'm also on Mastodon on my own server, here.